Many people have the idea that Invisalign treatment will always give you attractive results. In reality, your smile can be significantly impacted based on the provider you choose, both during and after treatment. If you are interested in getting treatment, you should seek out licensed Invisalign providers like the Doctors at FreySmiles Orthodontics. 
Invisalign Provider Tier Levels
Invisalign providers are grouped into membership tiers depending on their experience and the number of patients treated each year. They are given points, and the amount of schooling varies for each tier.
Here is a breakdown of the provider levels and tiers: 
Bronze Level Providers: 0 qualifying points 

Silver Level Providers: 5,000 qualifying points

Gold Level Providers: 24,000 qualifying points

Gold Plus Level Providers: 30,000 qualifying points

Platinum Level Providers: 60,000 qualifying points

Platinum Plus Level Providers: 100,000 qualifying points

Diamond Level Providers: 140,000 qualifying points

Diamond Plus Level Providers: 200,000 qualifying points
Preferred Providers complete at least ten Invisalign cases every year. A total of 50 Invisalign cases are treated by Premier Providers, who perform 25 cases every six months. A minimum of 300 cases must be treated by Elite Providers, who conduct 50 cases every six months. Top 1% Providers continue to perform 200 cases yearly and treat a minimum of 800 cases collectively.
Dentists Versus Orthodontists
What distinguishes dentists from orthodontists? The answer is many years of education. It takes an average of ten years to become a qualified orthodontist. To become an orthodontist, you need to complete an undergraduate program, dental school, and a 3 to 4-year orthodontic program.
Some dentists' offices provide Invisalign treatment as part of their service offerings. While they understand teeth, bites, and jaw anatomy, they generally lack the expertise, education, and experience required to move teeth properly.
Certified orthodontists who have also completed the Invisalign onboarding and education program are recognized as Invisalign Orthodontists. Invisalign orthodontists must complete the "Invisalign Fundamentals" course, which trains and educates them on how to use Invisalign. Following course completion, doctors will have access to resources for ongoing education.
Invisalign Treatment at FreySmiles Orthodontics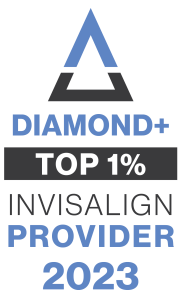 Despite the fact that many dental and orthodontic practices provide Invisalign, most lack the knowledge and expertise required to successfully complete the Invisalign treatment. Many dentists rely on Invisalign specialists to customize their patients' smiles, even after receiving training from Invisalign. In addition to planning how to position your teeth, an orthodontist must also predict how your teeth and jaws will change throughout the course of therapy.
The FreySmiles doctors are skilled Diamond Plus Invisalign providers in the Lehigh Valley and Lehighton and are members of the Top 1% Providers list. Since we have the most Invisalign experience in the area, patients come from far and wide to work with us. As TOP 1% providers, our doctors are qualified professionals who can customize treatment to achieve the best possible results with aligner treatment. We are capable of achieving the best smile outcomes with each treatment plan and the patient's cooperation. 
Every case is unique, and achieving good outcomes requires the utilization of specific details and expertise. Due to the fact that they are created especially for you, our aligner treatment regimens are exceptional. No matter how simple or complex the issue, we work closely with each patient to create a unique smile that complements their facial features, personality, and way of life. They have used the Invisalign technology to treat hundreds of patients, and you could be next. For an Invisalign consultation, get in touch with us today.